What's your love story?
We want to help you tell it, through professional wedding photographs that you'll treasure for a lifetime.
You know how you want your wedding day to feel: calm and exuberant. Loving and joyful. Like it's the most natural next step and a complete day of honour. You know your own distinct personalities—confidently and enthusiastically—and you want your event photographs to celebrate who you are.
You, years from now
You know how you want to feel, looking up at your printed wedding photographs displayed on the mantel. Filled with heart-warming memories of cherished family and friends on your wedding day.
You dream of having wedding photographs that tell the true story of your love and celebration.  You want your wedding photographers to document your loving moments with family and dear friends. You want to remember the tenderness, the sparkle and shine.
We are Funmi and Adrian, Edmonton engagement, wedding, and special event Photographers.
We specialize in noticing details. Like your heirloom pearl drop earrings. The cufflinks that your brother gave you. Grandma's cheeky smile. Your father's quiet pride. The children looking up in awe, and then running off to play. We capture the quiet wedding moments as well as the grand ones, in photographs that you will treasure. But what we really do is record emotion. Your grace, joy, and happiness on this most loving day; and the celebration of your loved ones all around you. And, once we get to know you, we'll have special photographic suggestions just for you, on your day.  We watch closely and listen carefully. We capture moments—some of your most precious, the once-in-a-lifetime ones—on your wedding day.
"Everyone is so happy and full of love!" Hands down, that's what inspires us to photograph weddings and engagements: the feelings of joy.
Join us at #yegweddinghour on Twitter, 7 – 8 pm MT on Wednesdays. It's a fun and fact-filled hour that we started in May 2013 to connect with our community. Come and join us to see what we're all about!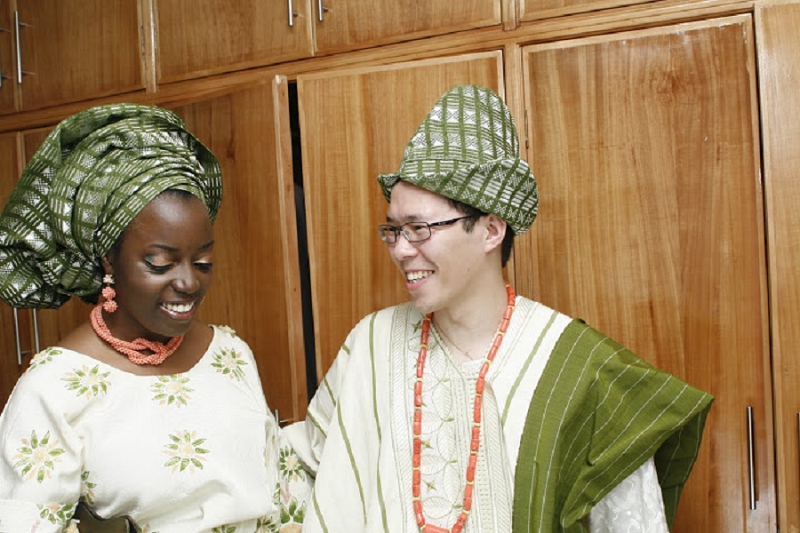 One from our Yoruba engagement ceremony in 2009. Image by Ovarl Photography.
One from our wedding day in 2009. Image by AM Photography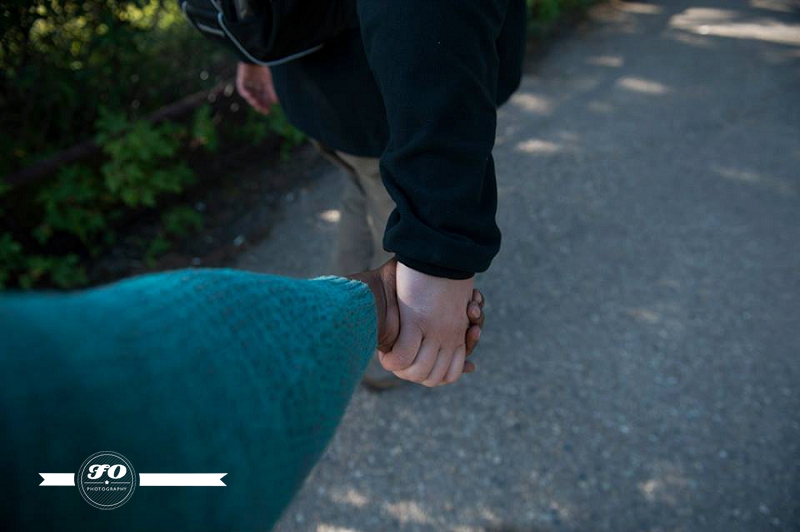 Two from our belated honeymoon in the Canadian Rockies in 2013.
Our 9-month old daughter, OreOluwa, really loves "styling" our hair.
What is our love story?
We met when both of us were new to our Engineering careers, in northwestern England. It wasn't quite love at first sight, but we knew when we knew. Ask us, and we'll fill in the details. While you're at it, ask Adrian about Bruce Lee and Elvis records. And maybe Funmi will tell you about her daily project commitments. Together, we delight in fun.
While we love to laugh, we can't help but focus on all things amour. We love seeing your love, as you look deeply into the eyes of your soon-to-be-spouse.
In 2012, a few years after our own wedding, we moved to Canada from the UK. Since then, have been exploring all things Edmonton and area. Like when we travel, we love to check out the local festivals, eat where the locals eat, and buy local and handmade. We are curious about local customs, and curious about your heritage and traditions that you bring to your wedding.
Between us, we have lived in the US, UK, Nigeria, Australia, and now Canada. We know what it's like to check out new cultures and make new friends. Adrian has a quick, quiet wit that you might miss if you aren't paying attention. Funmi exudes warmth and tender curiosity. We are both blushing right now and trying to convince the other to delete those last two sentences. But really, we want to meet you and celebrate with you.
 What could be more exciting than starting a new life together?
We don't know! Engagements, weddings, anniversaries, babies and children: they all make us both over-the-moon happy.
And what makes us happiest? Our 9-month old daughter, OreOluwa. Being in each other's company. Traveling to the Rockies on a quick vacation getaway, together. Living in Edmonton and meeting the people here.
We are Funmi and Adrian, Edmonton engagement and wedding photographers. Did you know? We'll take photographs of you even if you aren't getting married! We bring our style of not-too-posed photographing to your individual or family portrait. And we love events! We glide in to photograph the event set-up and design, or stick around to chronicle the action itself.