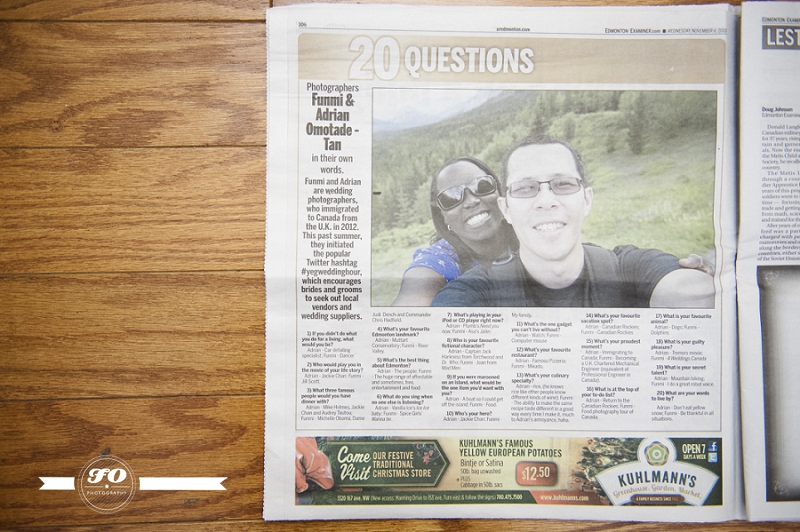 Have questions? We're happy to answer.
Q: Funmi, how do you say your name?
A: It's [Foo-n'mi].
Q: And, I'm having trouble pronouncing "Adrian." Can you help?
A: [Ay-dri-an]. We're joking. Most Canadians know how to say "Adrian."
Q: How do I say your company name? And how did you come up with it?
A: It's Funmi's initials before marriage: F. O. We say it "[eff-oh] photography." FO Photography: that's us.
Q: What made you choose Canada as your new home?
A: The variety of landscapes and welcoming people. Affordable locally-grown food.
Q: Why Edmonton?
A: Festivals! And the "shop local" movement. And if you don't believe how much we love our new city, check out our 365 project! See what we see, as newcomers to Edmonton.
Q: Which areas of Edmonton do you cover?
A: We particularly love the Downtown Edmonton, Glenora, Old Strathcona, Westmount, Griesbach, and Sherwood Park neighbourhoods.
Have we missed your stomping grounds? Forgive us—we're new to the country! Maybe you can show us around? And, really, we're quite ready to photograph all parts of Edmonton and outlying areas, like St. Albert, Spruce Grove, Stony Plain, Beaumont, or Morinville.
Are you further afield? Well, let's talk, because we love to travel and explore!