{February 20, 2016}
East Indian engagement inspiration
As you may know, we simply adore vibrant colors, especially when juxtaposed against neutral colors of a venue. We are always curious about learning about the different engagement & wedding cultures throughout the world. We'd been following the wonderful makeup artistry of Riti Jain for a while; though her work has been featured in many fashion and bridal publications, it was her East Indian makeup that intrigued us for all its drama and elegance. This East Indian Engagement inspiration is about her history, the makeup, and the fashion. Many thanks to the awesome Mark & Ryan of The Local Omnivore for allowing us to use their premises for this session. We'll feature them specifically next week!
Riti explains: "Earlier in 2016, Funmi asked me to collaborate on an East Indian engagement inspiration session that involves a saree, jewellery and an East Indian makeup. It already sounded so interesting to me then she asked if I could also be the model. For a moment, I thought "Woah!"… and I asked her "Are you sure?!" She replied "Yes!"."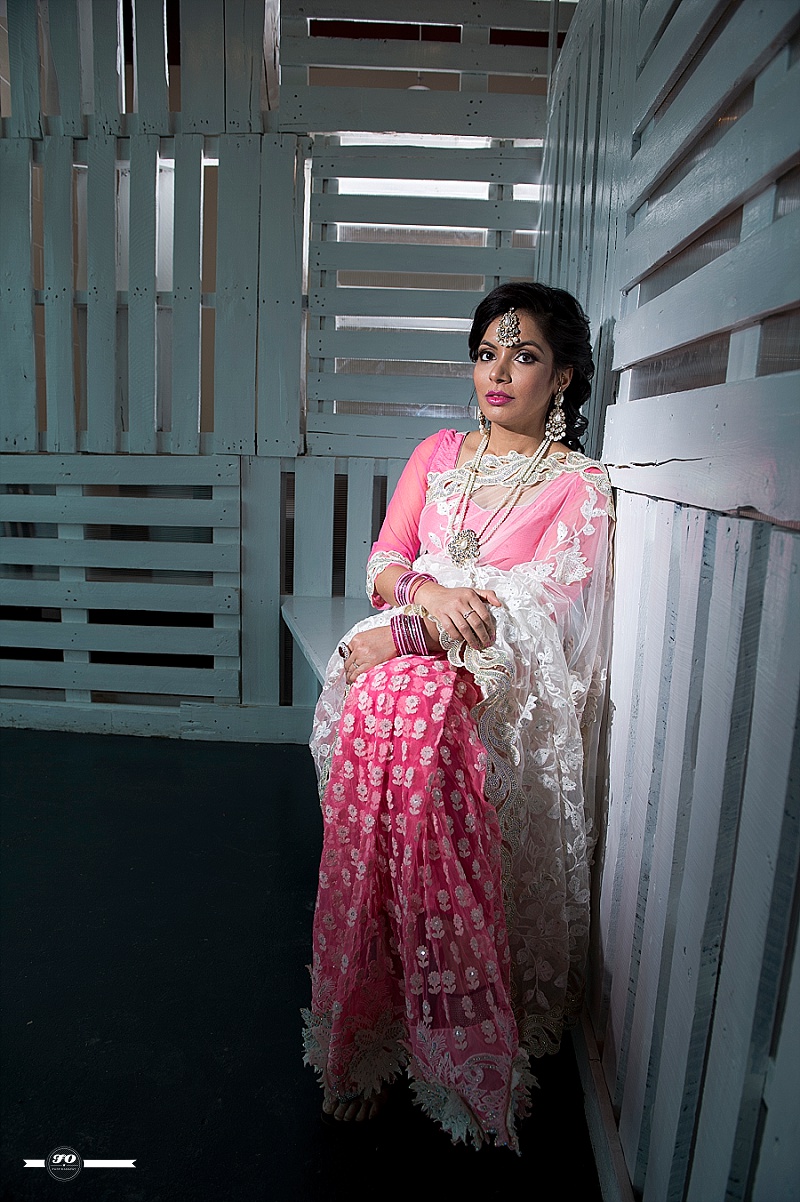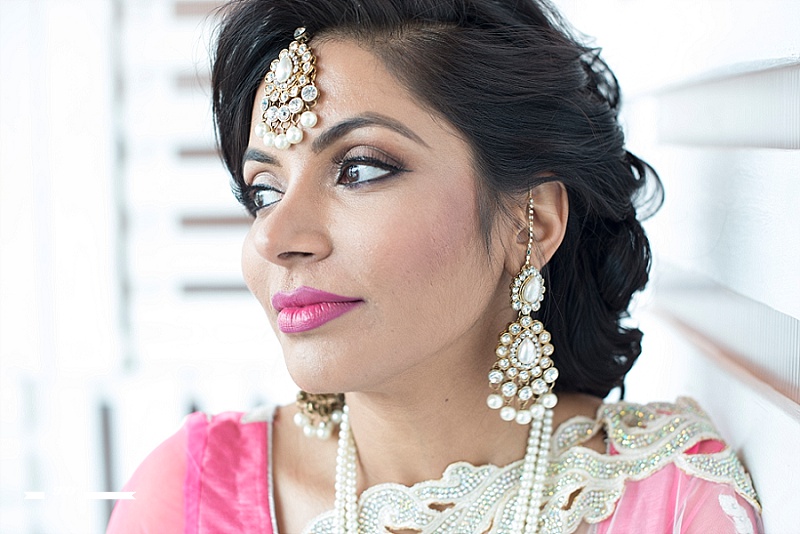 "I thought it would be a good way to bring the back the old memories from the time I got engaged to my husband, Kapil almost 12 years ago. On my engagement ceremony day, I wore saree that was selected by my mother; It was a beautiful wine tussar silk. My love for saree was gifted to me by my mother. She used to wear beautiful sarees, which have always fascinated me as the best East Indian outfit. So even today, whenever I get a chance, I wear a saree. It is such an important part of my culture, one that I am more than happy to display!"
"During entire session, I kept remembering how nervous I was on my actual engagement day nearly 12 years ago. Reminiscing about how I met Kapil and then got married to each other. I was keep smiling while thinking about him, all my real emotions and expressions coming through for Funmi & Adrian to photograph.  Mine was an arranged marriage, which means my parents found my groom for me. I remember the first time I met Kapil; he was a cute and shy guy with a majestic smile and I still love his smile a lot. We've been happily married for nearly 12 years and have a wonderful 11-year old daughter, Lavanya."
"I've been working as an Edmonton Makeup Artist and Hair Stylist for last 3 years. I really enjoy it because, at heart, I am an artist. For this East Indian engagement inspiration session, I used Makeup Forever foundation, Nars concealer, and Stilla eye shadow pallette to create the whole look. My friend, Ashley did my hair styling and stayed with me during session to manage any loose strands, etc. My makeup kit includes MAC, Urban decay, Kat Von D, Anastasia Beverly hills and other branded cosmetics so I can provide best looks for my clients."
"I also want to share my experience while being photographed by Funmi. Well, she is an amazing Photographer and a fantastic human being, inside & out; same goes to her husband who was helping her during the whole session. They made me feel so pretty and very comfortable."
Thank Riti, we had an absolute blast learning from you and working with you!